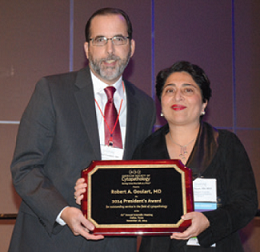 Robert Goulart, MD, President and Director of Cytopathology Services, New England Pathology Associates, Mercy Medical Center, has received the 2014 President's Award from the American Society of Cytopathology (ASC) for outstanding service in the field of Cytopathology. Established in 1992, the President's Award is presented annually, with the selection of the recipient at the discretion of the current ASC President.
Dr. Goulart received the award in November at the ASC's Annual Scientific Meeting in Dallas. The award was presented by Ritu Nayar, MD, Immediate Past President of the ASC, who credited Dr. Goulart for his many years of committee chairmanship and service. Most recently, Dr. Goulart served on a national multi-society panel which developed interim clinical guidance for Primary HPV Cervical Cancer Screening, sponsored by the Society of Gynecologic Oncology and the American Society for Colposcopy and Cervical Pathology.
"Dr. Goulart is known for clinical excellence and leadership in the important field of Diagnostic Cytopathology. This award is additional confirmation of his commitment to providing accurate and meaningful diagnoses that facilitate appropriate clinical care. Mercy Medical Center is fortunate to have the talents of each of the pathologists within New England Pathology Associates to assist our clinicians and patients through their modern, sub-specialized pathology department" said Scott Wolf, DO, MPH, Senior Vice President of Medical Affairs, Chief Medical Officer and Chief Operating Officer, Mercy Medical Center.
The American Society of Cytopathology, founded in 1951, is a distinguished national professional society of physicians, cytotechnologists and scientists who are dedicated to the cytologic method of diagnostic pathology. The ASC's diverse membership includes representatives from other countries who share a vision of education, research and continuous improvement in the standards and quality of patient care. The ASC is a unique society that provides a forum where physicians and cytotechnologists can interact and network with each other on both a personal and professional level